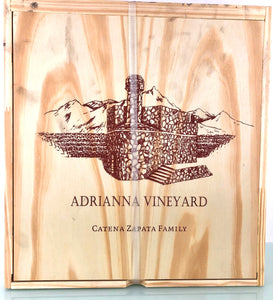 98 points James Suckling
"This is really something. There's purity and focus to the aromas of crushed berries, licorice and black tea, which follow through to an integrated palate of extremely fine, melted tannins that spread to the very ends of the wine. This is all about balance and length. It really is an emotional wine. Great follow-up to the 2017, which was also 100 points. Drinkable now, but better after 2024."
"The 2018 Adrianna Vineyard River Stones is always the freshest and most austere of the three single-plot bottlings from the Adrianna Vineyard on Gualtallary. This fermented with some 70% full clusters, as it was harvested at three different times and the first two fermented with full clusters and the last pick was added destemmed to the fermentation. The nose is subtle, elegant and nuanced; the grapes were picked quite early in 2018 and that ensured a vibrant palate with almost citrus (blood orange) sensations. A small percentage of the wine matured in stainless steel. They have been working with the irrigation and only irrigated it four times that year, achieving more precision in the viticulture, which gets reflected in the balance of the wine. This has very fine tannins, a very fine thread and a dry, long and tasty finish. This is markedly stony, true to the character of the place. Red fruit, textured and mineral. 5,160 bottles were filled in December 2019."